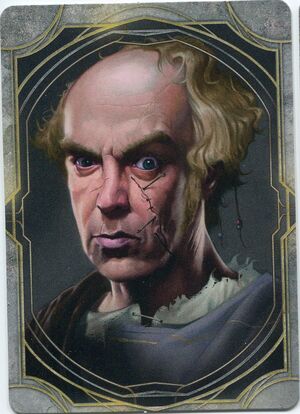 Derrick Gaffner is captain of the Howling Fiend, a fishing boat turned pirate vessel on Lac Dinneshere. Corrupted by the black ice used to make his ship's keep, Derrick is vicious and hateful.
Role Playing
Edit
IDEALS
Intimidating, enjoys causing fear
FLAWS
Authoritarian, intolerant of dissent
Hot-headed
Loud
BONDS
Eleint (September)
23 - Buys ship's ram made of Black Ice from Baerick Hammerstone
25 - Attacks a fishing vessel on Lac Dinnershere
28 - His pirate crew attacks Caer-Konig
30 - Howling Fiend pirate crew attacks Caer-Dineval
Marpenoth (October)
3 - Large attack against Easthaven attempting to secure weapons from Rurden's Armory
Ad blocker interference detected!
Wikia is a free-to-use site that makes money from advertising. We have a modified experience for viewers using ad blockers

Wikia is not accessible if you've made further modifications. Remove the custom ad blocker rule(s) and the page will load as expected.