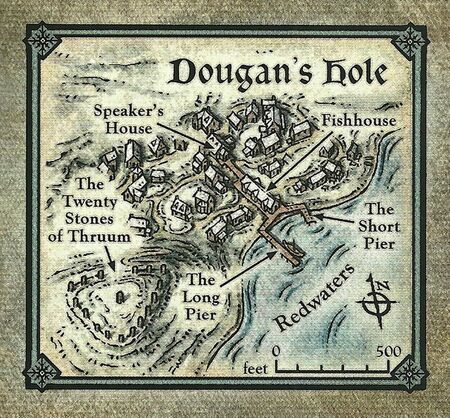 Speaker: Edgra Durmoot - Lake: Redwaters - Population: 100
"They're an odd lot, the folks o'Dougan's Hole. Keep to 'emselves, and seem to like it that way. I only visited there once. After the first day, I got the sense they were right." - Beorne Steelstrike
Description
Edit
Smallest town
Very underwhelming and unimpressive.
Just two piers and some gravel roads
Depend totally on fishing raw ore, they don't bother with Scrimshaw either
In winter, they become even more isolated- the road connecting them to Ten Towns often becoming snowed over
Twenty Stones of Thrurn
Edit
Rudely fashioned granite menhirs arranged in a perfect triangle. With a single stone anchoring the formation's center.
No one knows where it came from.
Who the heck is Thrurn? An old god?
The only interesting thing about Dougan's Hole
Edgra Durmoot
Edit
Speaker
Never attends the holiday meetings, or summons or during winter months. C
Cares more about her citizens than politics.
Old trapper, born and raised in Dougan's Hole
Leathery and thoguh, Plainspoken, suspicious by nature and tends to be gruff with strangers.
Ad blocker interference detected!
Wikia is a free-to-use site that makes money from advertising. We have a modified experience for viewers using ad blockers

Wikia is not accessible if you've made further modifications. Remove the custom ad blocker rule(s) and the page will load as expected.